Planning library displays or theme-based units for 2011?
To find events to celebrate or commemorate in 2011, check out the 2011 Australian Schools Calendar of special events available from Education Network Australia (edna).
The calendar lists events and celebration days with each date linked to event information, useful for planning library displays, school theme-based events, blog posts and online celebrations.
2011 is …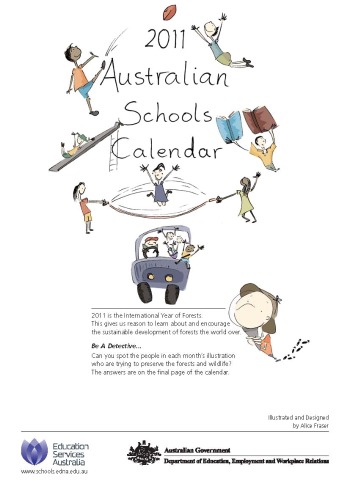 International Year of Chemistry
International Year of Forests
International Year for People of African Descent
International Year of Youth
World Veterinary Year
Year of the Bat
Year of the Solar System
Print your calendar
This year's downloadable calendar was designed by Alice Fraser of La Trobe University, Bendigo. Alice took the UN International Year of Forests as the theme. Print each month and display the calendar in your school's library, staffroom and classrooms.
Download complete 2011 calendar in pdf format
Online calendar
From the regularly updated online version of the calendar you can download events, school term dates and public holidays into your calendar software.
Click the calendar icon in the right hand column of the online calendar to download events one-by-one
Subscribe to be notified of new events as they are added to the Australian Schools calendar during the year.
Suggest an event to be added to the calendar.