The displays are up, the winners and honour books are announced and the Children's Book Council of Australia's Book Week 2011 celebrations have begun.
In the months leading up to Book Week school library staff have been planning, creating and publishing lessons, activities and displays – in both their physical and online library spaces. Library email lists have been full of people sharing ideas, resources and tips for where to purchase that special display item.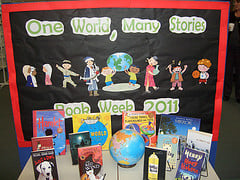 While it is impossible to acknowledge everyone who has contributed to the Book Week commons, the following links provide a few examples of the creative ideas, the shared resources and the range of technology tools used for Book Week related activities.
We would love to hear about Book Week in your school.
Post a comment on the blog or email us.