Di Ruffles from Melbourne Grammar School was invited to set the scene for the SCIS Asks 2013 consultation forum and provide her wishlist for school library services.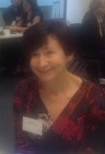 Di stated her top five issues in school libraries as:
Staffing
Demonstration of the value of the school library to principals and school councils is essential
Budgets
Plateauing of budget figures is a trend being noticed across many schools
Resourcing the Australian Curriculum
Phase 1 learning areas (English, Maths, History and Science) is a priority. Then resourcing of new learning areas.
Australian Curriculum General Capabilities
Development of programs and resources to support these and,
Australian Curriculum Cross curriculum priority areas
At her school Di noted, iPads are being used through the school with Year 12 providing their own choice of device. Students are not necessarily accessing the same information at the same time. E-Books are causing issues importing into the various devices in a  BYOT school environment.
Identification of suitable apps for teacher resources and for use by students is  featuring increasingly. Particularly useful apps include  an app for the library catalogue as well as the EasyBib app  which means students can scan  a book's ISBN for a  citation.
For students and staff 24/7 access to resources is important, as is providing resources in a variety of formats: print, e-book, DVD, audiobooks and digital video library (eg. Clickview).   Journals and databases of e-journals are used extensively. Di is seeing less use of the print non–fiction collection. Non-fiction eBooks are used but not necessarily a preferred option for all students. Students are not so fussed with format but the item must be relevant.
Di looked at the changing role of the teacher librarian and used 'What do teacher librarians teach' by Joyce Valenza and Gwyneth Jones  to highlight the  multifaceted role of teacher librarians. Evaluating resources is an important focus for teacher librarians, as is digital citizenship and educating students about  plagiarism. The library's website includes research guides (which suggests catalogue subject headings) and  a Harvard style referencing tool.
Di highlighted how teacher librarians at her school are working with classroom teachers, for example in a new subject for 2014, Extended Investigation (inspired by International Baccalaureate) which aims to develop student's capacity to identify and ask good questions, research an area of interest in depth and prepare for university level study.