SCIS is now a member of LibraryThing for Libraries, an enhancement service that delivers information created and shared by members of the LibraryThing social networking service into library catalogues.
Community generated content from LibraryThing for Libraries includes a range of features that provide additional descriptive information about resources in the SCIS catalogue.
Recommendations point to other 'similar' titles available within the catalogue.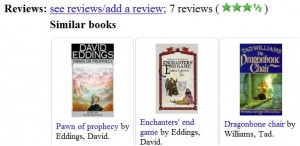 Links to other editions and translations are provided where applicable.
Tag-based discovery provides tag clouds for resources and tag-based search, drawn from the 75 million tags added to resources by LibraryThing members.
LibraryThing reviews are sourced from the LibraryThing customer base around the world – a diverse community of readers, taggers and reviewers.
Individuals or libraries registered with LibraryThing will be able to add their own reviews through the SCIS OPAC interface and share these for the benefit of all SCIS and LibraryThing users.
A short introduction to LibraryThing provides useful information to individuals interested in joining the LibraryThing community.
Please note: LibraryThing's terms of use exclude children under 13 from joining. Children over 13 years of age require parent/guardian permission.