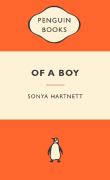 We're pleased to announce that ESA and Thorpe-Bowker have recently upgraded their licence to extend the use by SCISWeb subscribers of the bookcover images provided with SCIS records. Schools may now use the book cover images not only within their library catalogues, but also on the school website, including in blogs, wikis, online newsletters and intranets.  Unfortunately this extension applies to online use only, and does not permit schools to print off these images and use them in book displays etc.  So while, for example, it may be tempting to print off that SCIS book cover image, turn it into a poster and laminate it, then use it to advertise Book Week, this does not fall within the licence agreement for the use of SCIS book cover images.  But hey, the artist who created that nice piece of artwork deserves a few royalties too!
Book cover images are also available on other web pages, including publishers' web pages, but you would need to look at the terms of usage of that web page to see if they are freely available to be printed off. Contacting the  publisher to ask permission would be the safest way to go, or you could try asking your local bookshops if they could hang on to some of the promotional posters they receive for children's and YA fiction.  For more information about this  and other copyright questions, a good place to refer to is the Smartcopying website, at http://www.smartcopying.edu.au.
This post was contributed by Mary Gough, who provides SCIS cataloguing services for Queensland schools.