The Schools Catalogue Information Service (SCIS) wishes to acknowledge the Kulin Nation, Traditional Custodians of the land on which our offices are located, and pay our respects to Elders past, present and emerging. We also acknowledge the Traditional Owners of the lands across Australia, their Elders, Ancestors, cultures and heritage.
The theme for National Reconciliation Week 2020 is #InThisTogether2020, and in these trying times, this has never been more relevant.
SCIS recognises our responsibility to work for national progress in reconciliation and we are committed to continuing to work towards achieving this outcome.
SCIS cataloguing standards recognise the rich and special nature of indigenous communities in society. As an Australian and New Zealand focussed database, we have some unique cataloguing standards that recognise the Māori and Australian Aboriginal and Torres Strait Islander cultures in our database.
Dewey Decimal Classification and book numbers
To give emphasis and a shorter number to religion, spirituality and creation stories of the Australian Aboriginal people, the permanently unassigned Dewey number 298 is used.
For works where the book number would, if built according to SCIS Standards, be ABO and covers topics on Australian Aboriginal peoples, substitute the letters ABL.
SCIS Subject Headings
Resources on specific indigenous people are entered under their name e.g. Iwi (Māori people), Torres Strait Islanders, Aboriginal peoples.
Māori terms where applicable are used e.g. Waka, Wharenui, Te Reo Māori.
Names of Māori tribes can be added to the list e.g. Tainui (Māori people), Waikato (Māori people).
Reconciliation of Aboriginal and non-Aboriginal Australia is an allowed heading, along with Stolen generations.
Additionally, the names and languages of every major grouping of Australian Aboriginal peoples have been added.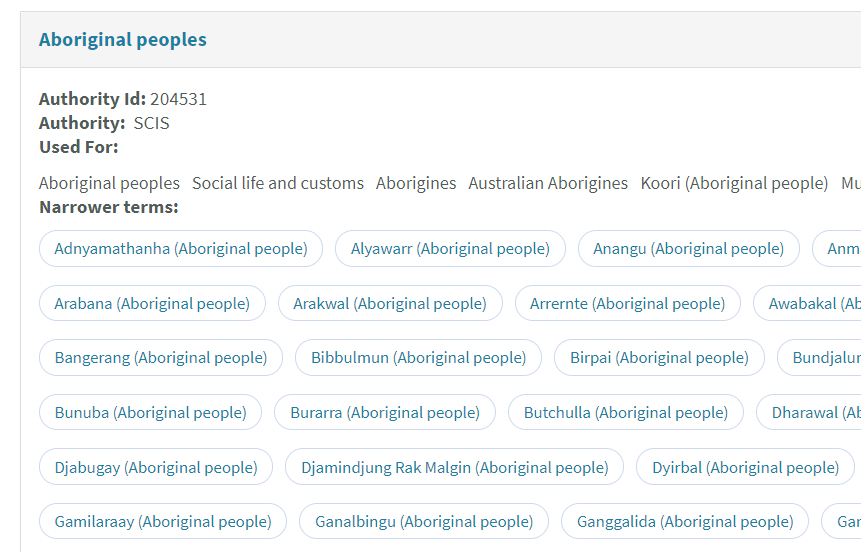 SCIS Standards are always changing and adapting to meet our school library communities' expectations. We welcome feedback; the SCIS Information Services Standards Committee (ISSC) is happy to receive and review suggestions from our school library community.
#InThisTogether2020 #NRW2020
Renate Beilharz
Cataloguing team leader, SCIS
Renate has worked for SCIS since 2018. A qualified teacher librarian, she worked in secondary school libraries for 20 years before teaching library and information services at Box Hill TAFE. She is passionate about ensuring that schools receive the quality data needed to empower information discovery for students.